Staff (Shaun Hirai)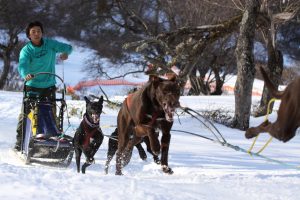 Dog Trainer
Disc Dog Player / Sled Dog Musher / K9 Freestyle Player
Shaun Hirai, world-renowned Japanese top disc dog player. At the age of 17 he began Sled dog. A little later he started to play disc dog in earnest. When he was 19 he won the USDDN National Finals in United States as the youngest winner in history. Not only that he won the game 3 years in a row.
Since he was a kid he has always lived with more than ten dogs. Through the long time experience he got sensibility for "playing together with dogs" and it helped him to be a great dog sports player.
He has so many amazing disc dog tricks, and because of those originality and creativity he is called "Trick Star".
Nowadays while he continues to succeed as a top disc dog player he energetically holds a sled dog school, disc dog seminars and so on.
Since around 2010 he has become active in Europe. His seminars and games there increased the number of potential players and helped their improvement a lot, and he is very popular in Europe.
<Main Results>
2018 USDDN World Finals  Super Open Freestyle Runner-up
2016 European Championship Winner
2015 European Championship Winner
2014 European Championship Runner-up
2014 European Championship Super Pro Toss & Fetch Winner
2013 European Championship Winner
2013 Poland Dog Chow cup Runner-up
2011 Purina Incredible Dog Challenge Runner-up
2011 DOGTOWN Cup Winner
2010 Purina Incredible Dog Challenge Winner
2010 USDDN National Finals  Super Open Freestyle Winner
2009 USDDN National Finals  Super Open Freestyle Winner
2008 USDDN National Finals  Super Open Freestyle Winner
2008 DOGTOWN Cup Winner